On this page:
Tō Tātou Tuakiritaka

| Pride in our identity

The University of Otago is proposing a new visual identity to align with its strategic direction, Vision 2040.

While recognising and embracing our Scottish heritage – pioneering in spirit and with inherent value on education – it also acknowledges the desire to journey on from our colonial origins. It turns to our present and future, one in which we recognise the critical importance of mātauraka Māori, our place, and our culture in Aotearoa New Zealand.

This proposed new identity has been developed in collaboration with mana whenua as part of the ever-strengthening relationship between the University of Otago and Kāi Tahu.

With the support of our community, we want to take steps to ensure that all students feel welcome at Otago; to develop a unique identity that speaks to our special place in the world.

We want to continue to transform, to advance and to dare, together.

Watch some of our community talking about Tuakiritaka below.
Our proposed new Māori name:
Ōtākou Whakaihu Waka
While we remain the University of Otago, we are proposing to change our current Māori name (Te Whare Wānanga o Otāgo) to Ōtākou Whakaihu Waka – a metaphor which means A Place of Many Firsts.
Ōtākou Whakaihu Waka speaks to the University of Otago's history and current excellence. This name would replace Te Whare Wānanga o Otāgo, which attempts to literally translate the University of Otago.
Broken down into parts, Ōtākou is the name of the channel which feeds in and out of Dunedin's harbour. Much like the reciprocity between teacher and student, and a University and its community, a channel is a two-way exchange. Today this exchange takes place at our campuses and through distance learning across Aotearoa and the world.
Whakaihu can mean a headland, like that at the end of the harbour which guided in the first Māori settlers, and later Scottish immigrants.
Ihu o te waka, or the prow of the waka, speaks to carving a path forward, the heritage of the University as the first in New Zealand, and to the University being a place of many firsts.
Hear how Ōtākou Whakaihu Waka is pronounced below.
Our proposed new
tohu

(symbol)

The tohu is a visual representation of our University.

Each side of the tohu is formed by three lines, representative of past, present and future: whakapapa, the intergenerational relationship and enduring collaboration with our ancestors, and descendants yet to come.

The combined strokes that curve into the centre are an expression of Tai Timu he Tai Pari – the water that flows in and out of the Ōtākou channel carrying life, people and knowledge.

The two sides of the tohu complete a circle, symbolising the reciprocity of learning and act as a reminder of our commitment to confront challenges on the horizon, together.

The tohutō (macron) at the top of the tohu represents a waka, which we aspire to paddle as one.

Universities around the world traditionally use a crest or coat of arms as their main logo, following European perspectives of identity, learning and knowledge. Our proposed new tohu has been designed to better reflect our desire to be Tiriti-led, and better reflect our special place and places in the world, in Ōtākou, Te Waipounamu, Aotearoa and the Pacific.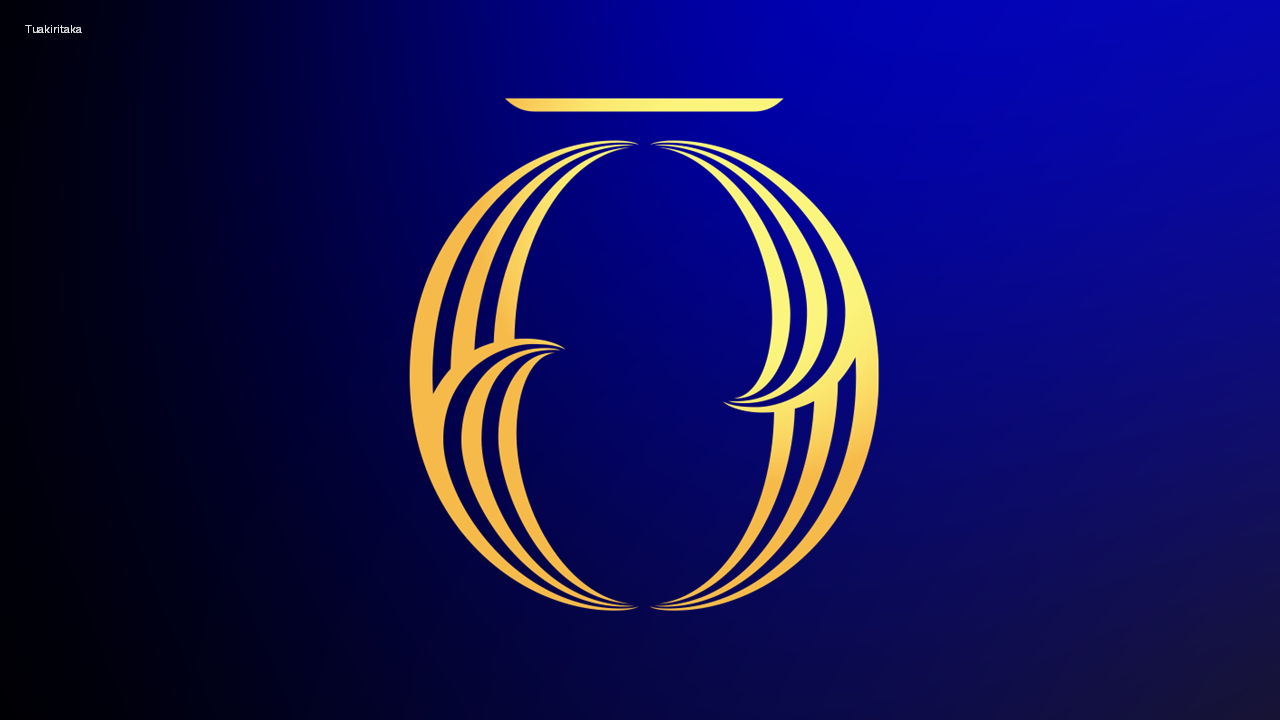 Our proposed new identity
Used together, our English name, Māori name and the tohu would create a new brand for the University. It is proposed that we have two versions, one English and one te reo Māori. The former would be most commonly used in external-facing communication such as our marketing material, our websites, in international markets and on major campus signage. The version which has more emphasis on our te reo Māori name, would be used when suitable. If approved, we will encourage staff, students and our wider communities to embrace our te reo Māori name and the usage of this version of the logo.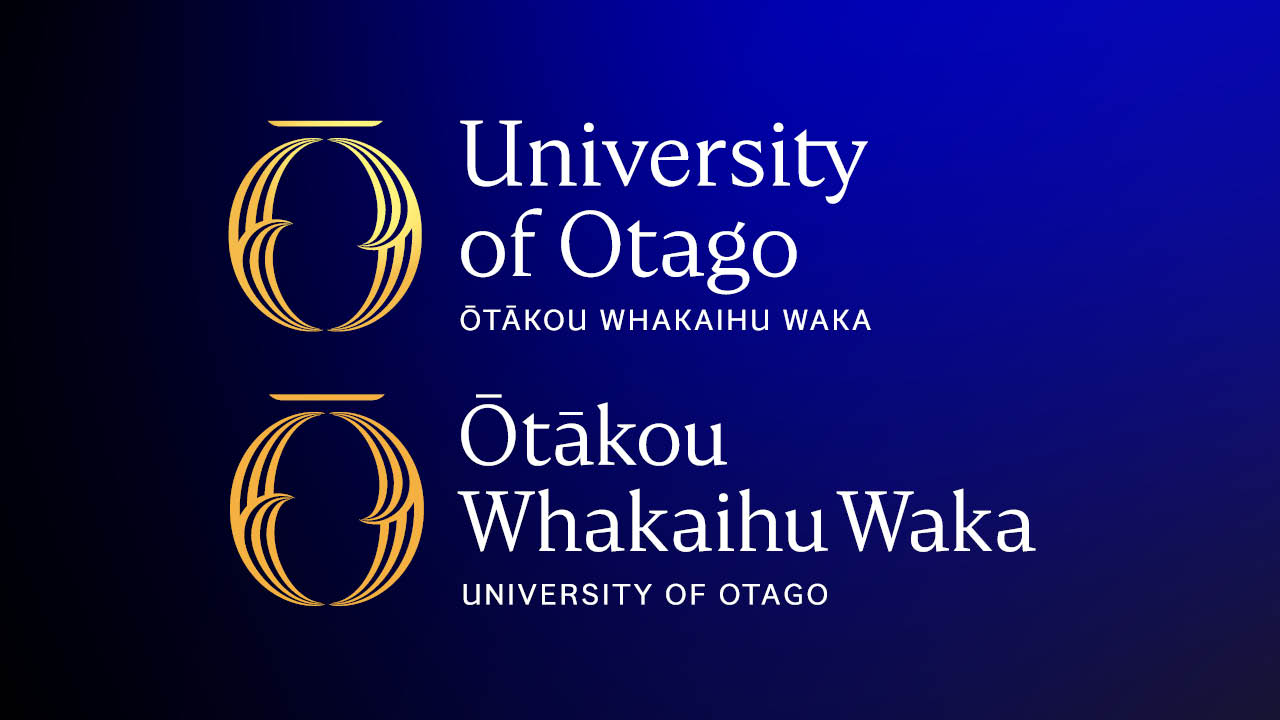 Proposal summary
While there are changes proposed, there are also key elements of our current identity that will remain.
We are not proposing to change our official name, which will remain the University of Otago.
Our colours will remain blue and gold, with more vibrant application – a shift that has happened many times in the University's history.
Our coat of arms will continue to be used in ceremonial events and traditions.
Our motto will remain Sapere Aude, commonly translated as 'Dare to be Wise', although we will continue to explore how we interpret this for a modern context.
Colleges, Clubs and Societies and sports teams can retain their identities.
Some visual elements of the current crest will be incorporated elsewhere around our campuses.
Join the conversation
We would love to hear from you. Do these proposed changes to our visual identity reflect our aspirations for the future?
Fill out the survey online – all students, staff, and alumni who we have an email address for have been emailed a personalised link on your student or staff email address, or, if you are alumni, the email address we have on file for you.
This is a personalised and confidential link, to make sure we know we are hearing from a representative cross-section of our community, sent from noreply@qemailserver.com and may be in your spam folder.
If you haven't received it, or have questions before you give your feedback, please email tuakiritaka@otago.ac.nz.
You can also call AskOtago on 0800 80 80 98 to ask your questions or get help filling in the survey.
The timeline of consultation is below:
| | |
| --- | --- |
| 15 March – 16 April | Consultation period (staff and student briefings, Q&As, seminars and engagement sessions) |
| 17 Apr – 5 May | Consultation feedback collated, analysed and reported to the Steering Committee, Senior Leadership Team and University Council |
| Mid-May | University Council will provide direction on next steps |
Frequently Asked Questions